Get on Your Feet Every day by Standing at Work
Standing at work doesn't have to be limited to your workstation.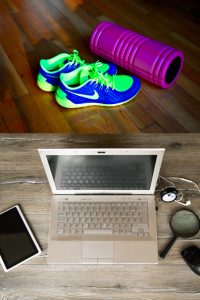 While many Americans are starting to ditch the traditional office and opt for telecommuting, traditional office and at-home employees spend hours in a relaxed posture far from ergonomic and healthy. Sitting for extended periods of time destroys your body, even if you regularly exercise!
Luckily, the situation isn't hopeless. Get on track by breaking up your day and sitting less than ever before. Standing at work may seem like a logical first step, but there are many ways you can get on your feet and move around from the moment you enter your office to the moment you fall asleep. Here's how:
Exercise While on the Phone
First, invest in a high-quality headset so you can step away from your desk while on the phone with coworkers or clients. Once you're free of the cord, make it a habit to walk, pace, stretch, or do basic exercises while you're on the phone.
This type of standing at work might seem awkward or intimidating, but approach it as a way to activate your body more so than a way to get six-pack abs. We understand that you shouldn't be panting while on the phone, but incorporating exercises like crunches, wall sits, and basic stretches will keep your body in shape. Besides, you'd most likely just be chewing a pen or playing with a desk decoration. Get active when the phone rings.
Take a Walk During Lunch
Socializing with co-workers is an alluring prospect, but most workers fall into a habit of watching videos at their desk or sitting quietly while eating. Even if you do regularly lunch with a group of friends, take the opportunity to get yourselves out of those seats.
Walking while eating not only helps digestion, it helps you lose weight in multiple ways. For one, it's exercise, and the movement increases lipoprotein lipase activity, which increases your metabolism. Bring the entire group along for a walk around the block or a nearby park. Lunch is your longest daily break, and the perfect time to get on your feet.
Stay on That Wurf Board
A standing desk is a terrific investment – but if you don't stand properly you may cause other health issues. Improper posture while standing can lead to knee problems and backaches. To avoid strain or aforementioned issues, utilize a Wurf board while working at a standing desk to keep your body constantly engaged.
A Wurf board encourages proper posture, and the micro movements ease your body into a natural, relaxed position. Standing at work is a breeze; movements and shifts on the board actively work various muscle groups and keep you alert and focused.
Run While You Relax
This trick will revolutionize the way you wind down in the evening – install a treadmill in front of your television (maybe behind the couch). After you finish dinner and you're ready to sprawl out and watch some quality procedurals, hop on the treadmill instead.
For the entire duration of your nightly television consumption keep active on the treadmill. Set your own pace – you don't need to be in a dead sprint for two hours, but ensure that you're moving. It will help you move more, and, perhaps, watch less television.
Standing up is the first step to a healthier, happier you. Try out these ideas for a more active lifestyle up on your feet. Share your success stories below!